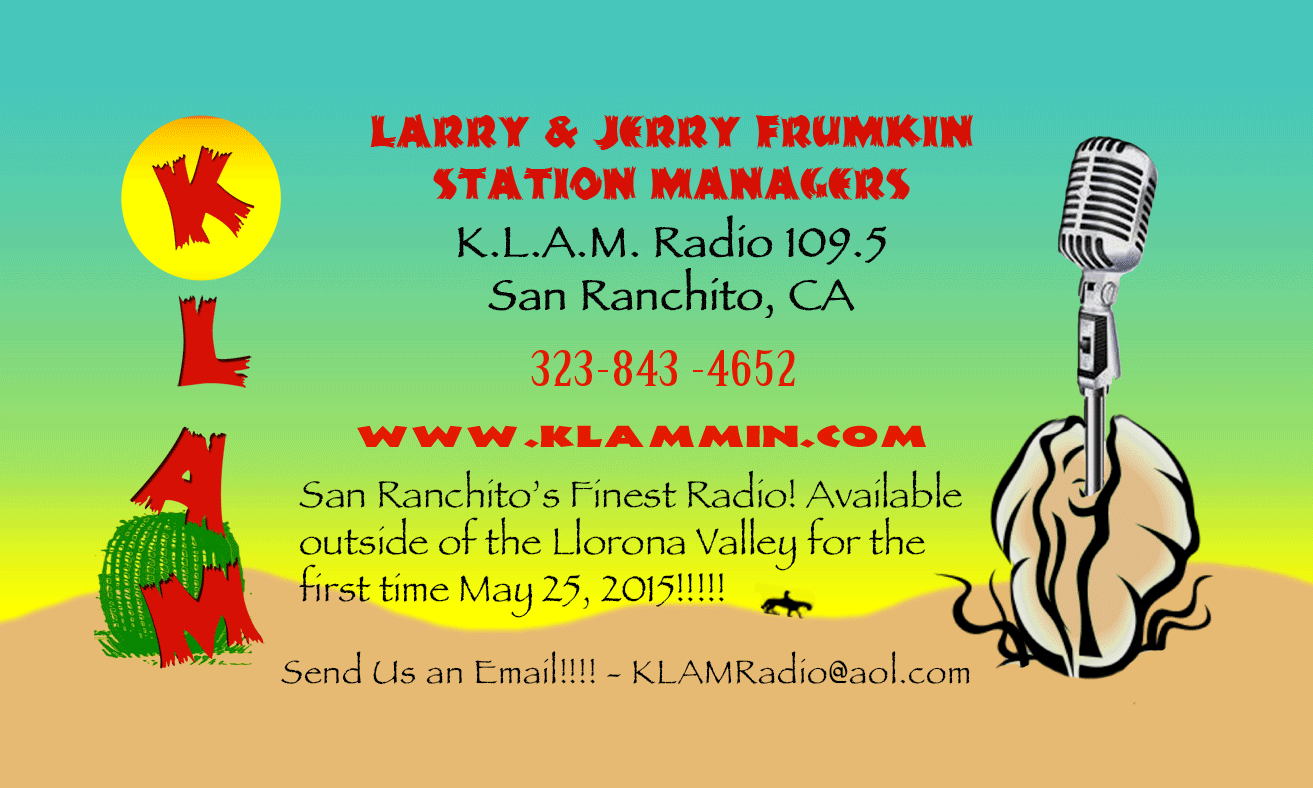 ABOUT THE EXHIBITION

KLAM 109.5 takes the best and worst parts of radio and puts them all together into one mega-station that comes to you live from the fabulous Dry Arroyo Casino in San Ranchito, California! Focusing on the absurdity and humor of everyday radio forms, KLAM Radio considers the resilience of radio culture in the digital media age as well as its strange power and prevalence in the Southland. KLAM Radio is a collaboration between performance artist Lenae Day and writer Anna Kryczka. Day and Kryczka have put together a group of talented Los Angeles artists, musicians, performance artists, comedians designers, writers, and public personalities to give KLAM its voice. KLAM inverts gender roles and subverts expectations around commercial and public radio. Tune into KLAM and you'll encounter the characters that see themselves as the movers and shakers of remote San Ranchito, whether they're hosting shows or advertising their local business. As a whole, KLAM 109.5 won't KLAM up on you and works to unfold a portrait of an imagined California desert town, its people, their aspirations, gossip, disagreements, passions and politics.
Some of the shows you will hear on KLAM 109.5:
Gabbin' Gals: Melinda, Gladys, and Joyce are three sassy women talkin' sports. Voiced by men. The gabbin gals really know their stuff and also feast their eyes on the sports butts of the world. These three San Ranchito women aren't shy about their opinions!
Let the Men Talk: Ever thought that men just don't have a voice in the country? Are you concerned about the incursion of the "f" word into popular discourse? Join Richard "Big Dick" Johnson (Voiced by a woman) and his cronies, Conservative legend Joe Wood, upstart pundit Hatcher Thatch, and the mommy behind the blog Mother's Answer, Nance Degraw as they loudly carve space for their anger to be heard.
Stagnant Air: Veteran interviewer Molly Blech interviews local and worldwide celebrities. She sits down with local legend Dirty Earl Magnum to discuss his life and career.
The Truth EXPOSED:
Bearded and hatted mystery man, broadcasting from his bunker in an undisclosed location, shares his latest apocalyptic and conspiratorial conjectures. Fellow conspiracy theorists are invited call in and commune with our host who requests to remain anonymous. This program is generously sponsored by Crystals Crystals.
The Doctor is Really In: Want to get to bottom of that bump on your left pinky toe? Don't worry. It's probably cancer! Call up Rich Perlag and share your symptoms, real and imagined, and participate in San Ranchito's hour of aggressive diagnoses. This program is sponsored by DocsforReal.com
Generously underwritten by these local businesses:
The Fabulous Dry Arroyo Casino
Tracy's Wig and Tan
Titletown Videos, Ice Cream, and Massages
My Morning Pot
Scones & Guns
The Manhole
The Wake & Bake
Brad's Discount Knees and Hips

Crystals Crystals
Grocerytown
Gringo's Gas
Decks and Clubs
The Coffee Gallery
Brown to Less Brown Cowboy Carpet Cleaning
ABOUT THE ARTISTS
Lenae Day is a Los Angeles based performance artist with solo shows at Mark Moore Gallery and Disjecta Contemporary. Her work takes the form of fabricated archives, utilizing commercial media forms to create and document conceptual universes. Her publications: DAY Magazine, Modern Candor and DAY Weekly are available in art book stores around the world. lenaeday.com

Anna Kryczka is a doctoral candidate in the University of California, Irvine's program in Visual Studies and holds a Master's degree in Art History, Theory and Criticism from the School of the Art Institute of Chicago. Her research focuses on the criticism and display of mid-century American art, design, media, material culture, and architecture. Kryczka's work has appeared in the Journal of Visual Culture and the Journal of History and Technology. Her book, co-edited with Robert J. Kett and based on a 2013 co-curated exhibition, Learning by Doing at the Farm: Craft, Science, and Counterculture in Modern California was published in March of 2014. She is currently a member of a Jet Propulsion Lab funded interdisciplinary research group focusing on the economic, cultural, and environmental challenges facing Southern California's desert communities.