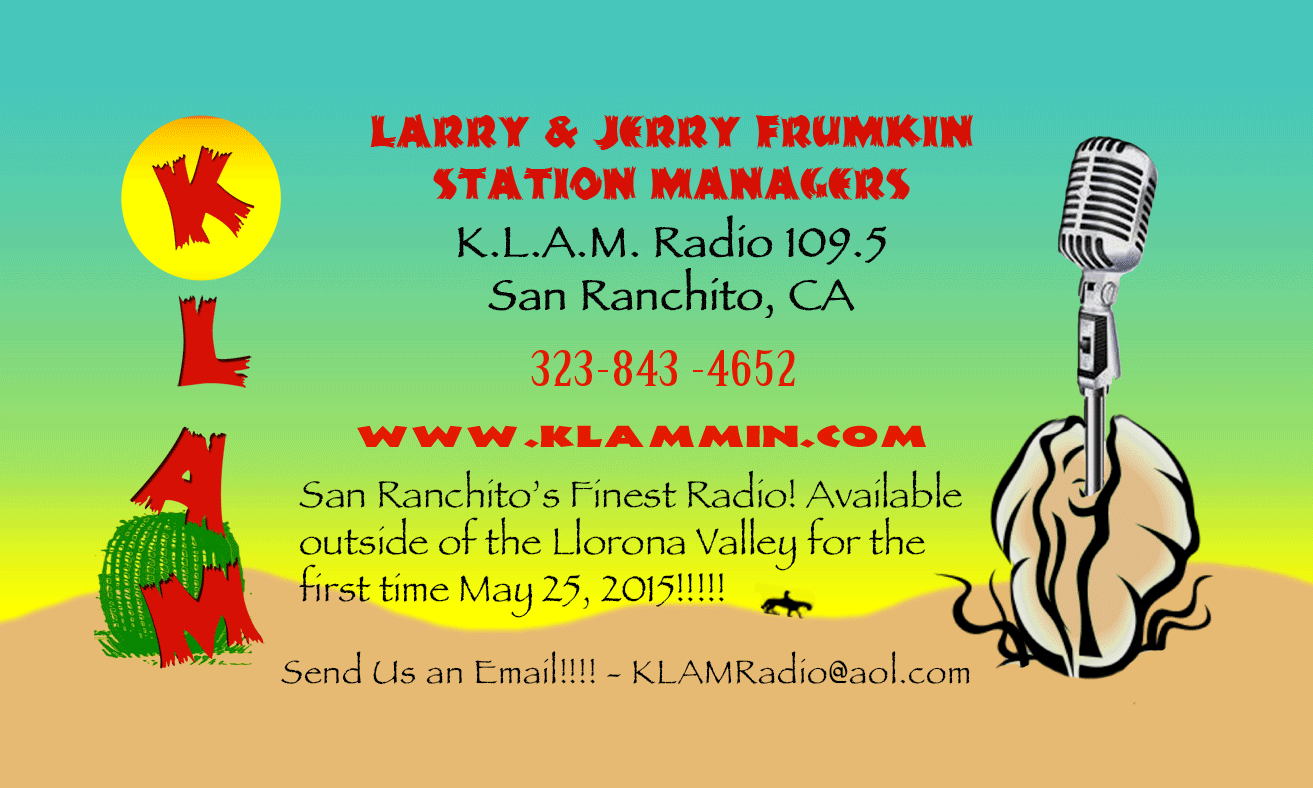 ABOUT THE EXHIBITION

KLAM Radio is ongoing with episodes being released on Tuesdays, ending in December of 2015.

KLAM 109.5 on iTunes: https://itunes.apple.com/us/podcast/klam-radio/id996176483?mt=2

KLAM 109.5 on stitcher radio: http://www.stitcher.com/podcast/klam-radio?refid=stpr

KLAM Radio takes the best and worst parts of radio and puts them together into one mega-station. KLAM 109.5 comes to you live from the fabulous Dry Arroyo Casino in San Ranchito, California! Focusing on the absurdity and humor of everyday radio forms, KLAM Radio considers the resilience of radio culture in the digital media age, its strange power and prevalence in the Southland, and the cultural challenges facing California's desert communities.
KLAM Radio is a collaboration between performance artist Lenae Day and writer Anna Kryczka. Together they have assembled a group talented put together a group of talented Los Angeles artists, musicians, comedians, voice actors designers, writers and public radio personalities to give KLAM its unique voice. Notable contributors include Eleanor Antin, Jesse Thorn, Jonathan Goldstein, Starlee Kine, Aparna Nancherla, Betsy Sodaro, Martin Starr,and much, much more!
As a weekly podcast, KLAM offers a critical inquiry into Southern California media and culture through the subversion of expectations around normative modes of race, class, and gender representation. Combining formats and styles associated with commercial, public, and community radio, KLAM investigates radio's place in the contemporary media context. Using websites, fictional social media accounts, voicemails, and podcasts, coupled with live events, Day and Kryczka unfold a portrait of this imagined California desert town, its people, their aspirations, gossip, disagreements, passions and politics. Listeners are encouraged to interact with KLAM Radio's many personalities throughout the course of the exhibition through social media and 323 Projects. Tune into KLAM by visiting 323projects.com and klammin.com and you'll encounter the movers and shakers of remote San Ranchito.

A LETTER FROM LARRY AND JERRY FRUMKIN
Larry and Jerry Frumkin KLAM Radio 109.5 The Fabulous Dry Arroyo Casino 5438 Casino Dr. San Ranchito, CA 92260
June 11, 2015
Dear Sirs or Madam,
Larry and Jerry Frumkin here, station managers at KLAM Radio 109.5 FM. KLAM Radio has been serving the Llorona Valley since 1942, broadcasting from beautiful San Ranchito, California three and a half hours from anywhere in Southern California. KLAM Radio offers a variety of programming types and formats to serve our diverse local community. We have shows to fit all tastes from sports talk to the finest in classical music, plus live dedications and good old fashioned radio drama. As you can see, we have it all! We are writing to let you know that we're taking this show on the road and into the future with podcast technology! Making KLAM Radio available for the first time outside of the Llorona Valley on May 25, 2015! We can't wait to reach a wider audience through internet's powerful engines. We know that you will become a happy Klammer in no time!
For more information, please swing by our new web address www.klammin.com or say "hola" by calling (323)THE-HOLA or send us an email at KLAMRadio@aol.com!!!!!!!!
Cheers,
Larry & Jerry Frumkin Station Managers KLAM Radio 109.5 FM (323)THE-HOLA www.klammin.com KLAMRadio@aol.com
K.L.A.M. RADIO 109.5 FM Station Managers Larry and Jerry Frumkin
WEEKDAY PROGRAMMING

5-9 am - TOPICAL in the Mornings with Ricki and Stacy:

Join Ricki and Stacy, two pals of indeterminate genders as they host their recklessly enthusiastic morning radio show. As you might guess, they are talking about what's topical and announcing the latest winner of a Topical Cruise on Topical Tuesday. This morning pot of KLAM is brought to you by Topical ointments.
9-10 am - Gabbin' Gals:
Melinda, Gladys, and Joyce are three sassy women talkin' sports. Voiced by men. The gabbin gals really know their stuff and also feast their eyes on the sports butts of the world. These three San Ranchito women aren't shy about their opinions!
10 am-12 pm - ONE America with Post-Race Ray:
One America, is hosted by self-appointed local big shot Ray, some folks call him Post-Race Ray. Ray takes calls and discusses local race dynamics from his unbelievably short-sided "liberal" political stance.
12-1 pm - Video Journeys
Join local film buff, Phyllis McGillicuddy and her granddaughter Lenae as they review some of film's finest confections rented from the local video store - Titletown Videos, Ice Creams, and Massages. Phyllis rates each film with a unique bouquet of flowers.
1-3 pm - Let the Men Talk:

Ever thought that men just don't have a voice in the country? Are you concerned about the incursion of the "f" word into popular discourse? Join Richard "Big Dick" Johnson, voiced by a woman, and his cronies as they loudly carve space for their anger to be heard.
3-5 pm - Stagnant Air:
Veteran interviewer Molly Blech interviews local and worldwide celebrities. She sits down with local music legend, Dirty Earl Magnum to discuss his life and career.
5-5:30 Jerry's Evening News:
Join KLAM's nighttime manager Jerry Frumkin as he reads the headlines ripped straight from today's Llorona Tribune.
5-9 pm - Cordelia:
Cordelia is here to listen 5 nights a week. She lends a sympathetic ear to those struggling with matters of the heart and then selects a wildly inappropriate metal song to fulfill the callers dedications. Join Cordelia on Sunday mornings for brunch at Fettitini's, you'll find her sipping a world famous Fettitini Martini and jamming out with her KLAM out.

9pm-12 am - Into the Night:
Classical music guru Leonard Grapentine takes San Ranchito into the night, classical style. His encyclopedic knowledge of all the Baroque hits is only interrupted by his uninspired reading of the mandatory ads for the station's underwriter the FABULOUS Dry Arroyo Casino and that unbeatable buffet deal: UNLIMITED CLAMS.
12-1 am - The Doctor is Really In:
Want to get to bottom of that bump on your left pinky toe? Don't worry. It's probably cancer! Call up Rich Perlag and share your symptoms, real and imagined, and participate in San Ranchito's hour of insane Perlag-ian diagnoses. This program is sponsored by DocsforReal.com

1-1:30 AM - Help Me Rhoda:
Join local beauty expert Rhoda of Rhoda Rouge as she makes over San Ranchito's movers and shakers in her pink RV, Dolores.
1:30-3 am - DJ Molson Ice and the Ice Men:

CSU Ranchito junior and San Ranchito's mashup master, Molson Ice only got this program because his hip uncles, Jerry and Larry manage the radio station. His pals, the Icemen, really want to nerd out about their favored bands and moments in musical history, whereas Molson Ice wants a platform for those mashups he's been crafting in his dorm room.
3-5 am - The Truth EXPOSED

Bearded and hatted mystery man, broadcasting from his bunker in an undisclosed location, shares his latest apocalyptic and conspiratorial conjectures. Fellow conspiracy theorists are invited call in and commune with our host who requests to remain anonymous. This program is generously sponsored by Crystals Crystals.
WEEKEND PROGRAMMING
5-6 am - Cliff's Morning Zoo:

San Ranchito's excessively zany solo morning zoo artist, Heathcliff Collins, used to be the regular morning DJ until KLAM radio got a few too many complaints and Cliff was relegated to Saturday at the crack of dawn. You'll find Cliff enthusiastically loitering at Grocerytown to celebrate national prune day.
6-8 am - Inner Perspectives with Hortense Pennywell:

Local intuitive Hortense Pennywell is well versed in the arts of spirit communication, angel healings, grease stain readings, old fashioned advice, and much more. Ms. Pennywell does house calls and takes calls.
8-10 am - Jill's Book Club:

Local gossip Jill Flanagan hosts a book club each Sunday at her business, the Wake & Bake - a combination coffeeshop and tanning salon. Tune in to hear Jill and her gang of regulars discuss the finer points of literature - or more likely the latest town gossip - over steaming mugs of coffee and glowing UV beds.
10-10:30 am - SO…

CSU San Ranchito's radio show about local and regional art. Hosted by two hip, young art professors Caitlin Cassidy and Melanie Douchebag.
10:30 am-11:30 am - I Love that Dish:

Local food eating woman eats food and loves it all. Sometimes, if she's feeling daring, she'll try something "different."

11:30 am-12:30 pm - Travel with Taste:

Local socialite, Lydia Douchebag, takes you on a journey to some of the world's farthest corners with the utmost elegance and class - giving helpful tips for excursions, accommodations, fine dining and amusements for affluent listeners. Her grandson, Nathaniel Lee Jason Douchebag - a globe-trotting free spirit - provides content for the budget-minded listener with his "Bargain Traveller" segment.
12:30-2 pm - Pledgin' Time:

KLAM 109.5's weekly pledge drive! Full of wild promotions, passionate testimonials, and lots of yelling.
2-6 pm - Foley Players::

The Foley Players serves up old timey radio drama heavy on sound effects and the overblown poetry of the local desert landscape and its heroic people.
6-8 pm - Mime Time Mime Time is San Ranchito's primetime Saturday night program offering salacious accounts of ventriloquism, mimery, dog tricks, modern dance, sleight of hand and more.
KLAM 109.5 is generously underwritten by local businesses:

Wake & Bake
The Fabulous Dry Arroyo Casino
Crushable 2015
Merv's Mevrolet Dealership My Morning Pot
My Morning Brew The Coffee Gallery
EZ-DIAMONDS Tracy's Wig & Tan
Schmermler Auto Group Titletown Videos, Ice Cream, and Massages
TOPICAL Ointments Kryczka, Paymore & Associates
The Clothing Corral Wanda Wilman's Foyota Dealership
Tucker's Treasures Glazed Expressions
Dr. Vino, Etc. Fettitini's
Ricki's Autobodies Brad's Discount Knees and Hips
Gently Used Marriage Supplies Grocery Town
Jurado's Forbidden Fruit
House Full of Toys Crystals Crystals
Scones & Guns DocsforReal.com
Schlanger's Pharmacy Gringo's Gas
Smoothe Naturals The Manhole
Things to Remember Brown to Less Brown Cowboy Carpet Cleaning
Stone's Decks & Clubs The Golden Sizzler Desert Steakhouse & Bar
Curt Cuttenberg's Yoga Station
ABOUT THE ARTISTS
Lenae Day is a Los Angeles based performance artist with solo shows at Mark Moore Gallery and Disjecta Contemporary. Her work takes the form of fabricated archives, utilizing commercial media forms to create and document conceptual universes. Her publications: DAY Magazine, Modern Candor and DAY Weekly are available in art book stores around the world. lenaeday.com

Anna Kryczka is a doctoral candidate in the University of California, Irvine's program in Visual Studies and holds a Master's degree in Art History, Theory and Criticism from the School of the Art Institute of Chicago. Her research focuses on the criticism and display of mid-century American art, design, media, material culture, and architecture. Kryczka's work has appeared in the Journal of Visual Culture and the Journal of History and Technology. Her book, co-edited with Robert J. Kett and based on a 2013 co-curated exhibition, Learning by Doing at the Farm: Craft, Science, and Counterculture in Modern California was published in March of 2014. She is currently a member of a Jet Propulsion Lab funded interdisciplinary research group focusing on the economic, cultural, and environmental challenges facing Southern California's desert communities.

EPISODES